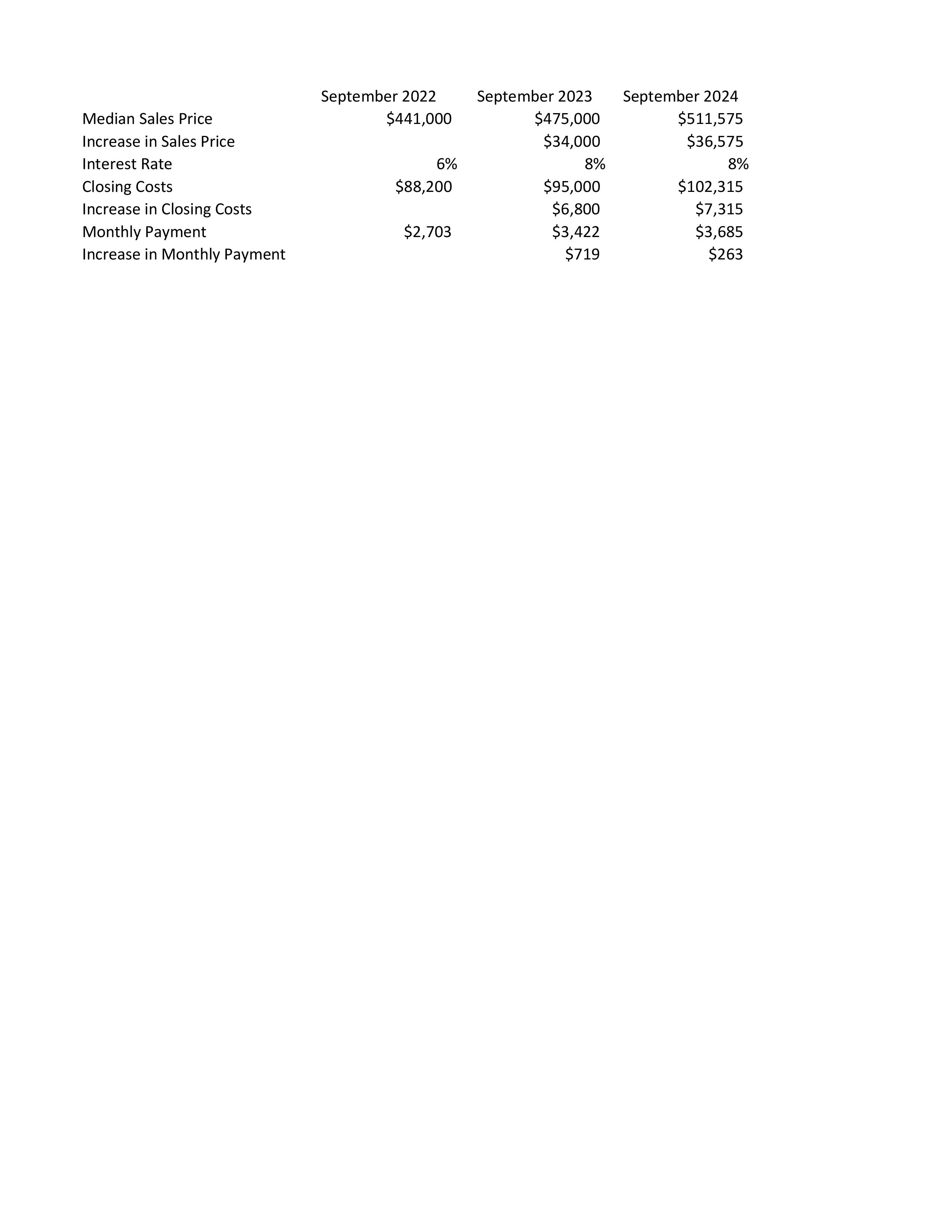 September 2022
September 2023
September 2024
Anne Arundel County Market Data September 2023
Buyers: We are going to wait for the market to get better and save money.
Reality: The best time to buy real estate is almost always in the past.
Attached is a real-life example on the costs of waiting to purchase. In the fall of 2022, interest rates had jumped to around 6% and there was some belief that the housing market was in a bubble. During COVID interest rates had been at historic lows and the increased demand for housing had pushed prices higher than typical growth. Fast forward to fall 2023 and not only have rates increased but prices have also continued to appreciate. Predictions of a housing bubble have all but evaporated. For those waiting for rates to drop, the reality is if they do price appreciation would more than likely accelerate. Our recommendation for those on the fence is that it is better to purchase now and if rates do drop you can always refinance. Any future increases in sales price are lost equity opportunities that you cannot get back. In addition, increases in sales prices also increase costs to close and monthly payments. The attached example is based on interest rates staying the same and price appreciation year over year to remain equal.
Thinking of buying? Discover the Future of Real Estate! Contact Maryland's Property Team to Schedule a FREE No-Obligation Confidential Consultation! Always the Best!!!
Adam Heimbach – Real Estate Broker, REALTOR®, GRI
Direct: 410-212-4898
David Weiss – Associate Broker, REALTOR®
Direct: 410-703-2363
Our Team's Website-www.MarylandsPropertyTeam.com
#MarylandsPropertyTeam #AnnapolisRealEstate #AnneArundelRealEstate #QueenAnnesRealEstate #MarylandRealEstate #Waterfront #LuxuryHomes #RealEstate #RealEstateBroker #HomesForSale #ComingSoon #ForSale #Sellers #Buyers #JustListed #HouseHunting #HomeSearch #Annapolis #Arnold #SevernaPark #Crownsville #Pasadena #KentIsland #EasternShore #Davidsonville #Eastport #Crofton #Chester #Stevensville #Centreville